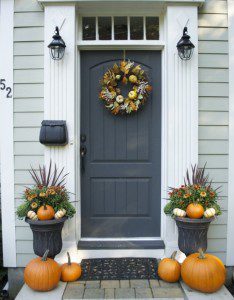 Urban myths are nothing new. Wait one hour after you eat before swimming. Butter works best for treating burns. It's OK to roll through a stop sign in California (the California roll!). They are fun to share, but aren't true to life. The same goes for real estate. Most myths are false, but there are a few that have some truth to them and should be taken into account when selling a home.
Take a quick test on your real estate knowledge here, then read on to see how urban myth savvy you are.
1.      T / F  When selling a home, you should always change bold paint colors to neutrals
2.      T / F  Curb appeal can make or break a sale
3.      T / F  To sell quickly, you must have all the latest upgrades
4.      T / F  Holiday décor is a no-no when selling a home
5.      T / F  Zillow can do most of what a Realtor can
Myth #1: When selling a home, always replace bold paint colors with neutrals
Answer: False
Bold isn't always bad. In fact, if you go too hardcore on the neutrals in your home, you risk creating a monotone effect that will hide interesting features and architectural highlights that would otherwise make your home stand out to potential buyers. The rule of thumb is to use bold colors in moderation, such as having a single feature wall in bold colors surrounded by complementary neutral walls.
Myth #2: Curb appeal can make or break a sale
Answer: True
First impressions really are important, even in real estate. When home buyers pull up to the curb, what they first see can delight and invite them in, or turn them off and send them away. You don't have to stress out your budget with dramatic landscaping or high dollar hardscapes. Instead start by creating a well-kept impression by keeping grass and hedges neatly trimmed and watered. Stand on the street and look at your house to see if the paint on your shutters needs updating. Clean your front door and any outside furniture. Add a few colorful flowers in pots and you're all set.
Myth #3: To sell quickly, you must have all the latest upgrades
Answer: False (however…)
It's true that things like stainless appliances, granite counters and indoor crystal fire pits are all the fashion and make a really great first impression. But many homes in Arlington, VA, don't have these features because they were built before these trends caught on. Adding them in a frenzy right before you sell will prove costly and you're not guaranteed to get the full value of what you spent back in the final sale price. Be sure to consult with your Realtor for advice about upgrades, as they are most likely to know what buyers are looking for and can help seal the deal – and what you can pass on.
Myth #4: Holiday décor is a no-no when selling a home
Answer: False (to a point)
The rule of thumb here is moderation. If your decorations are tasteful, they will add to the home's appeal. For Halloween, play up the harvest angle with pumpkins, Fall leaves, etc. Go light on the ghoul factor. If it's Christmas, a tastefully decorated tree, fresh greenery on the mantle and a wreath on the front door are perfect. Plus they will leave a refreshing pine scent in your home. (Remember our "Scents that Sell" article?) There might be some who are feeling a big Grinchy, but overall most people like the holidays and will appreciate the welcoming touch.
**(Want more advice for home sales at the holidays? Check out this article: "How to decorate for the holidays when selling your home." )
Myth #5: Zillow can do most of what a Realtor can
Answer: False (not even close)
Zillow does not know all. In fact, Zestimates have been shown to be between 10% to 42% in error when estimating home values. Online valuations can never take the place of a professional CMA (comparative market analysis) as well as valuable homes sales advice and guidance from a local, experienced Realtor.
Bottom Line: Some urban myths are silly and harmless, like the one about mixing Pop Rocks and soda and you might explode. But others can cause you to spend money you don't need to and get easily overwhelmed when you are trying to sell your home. Working with a real estate professional is the best way to avoid myths like these and ensure you have a successful experience.