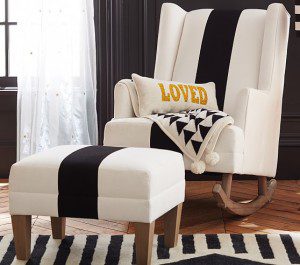 Traditional pinks and blues used in nursery design are being nudged aside as many parents have turned to grown-up colors that blend with the rest of their home and transition easily as their children grow.
Palettes of gray, black and white are showing up in nursery design everywhere, complemented with silver, gold and brightly-colored accessories that can be easily changed out as children mature and have their own ideas for decorating their rooms.
Granted, a baby's room should still be for a baby, but parents don't have to stick with clowns, balloons, ballerinas or silly animals in pastels any more. Softly textured rugs in black, white and denim patterns are still cozy for baby to roll and play on. And mobiles with fun star, moon and heart shapes are just as playful and captivating for children in shiny gold and silver metallic finishes.
Companies that cater to children such as Pottery Barn Kids and Giggle are taking note of this trend and have debuted new lines that mix parental preferences with sophisticated patterns, natural textures and neutral colors.
One new nursery collection from Pottery Barn Kids that debuted this month features a glamorous black and white color palette, graphic prints and patterns, and bold accents perfect for boys or girls. Another is composed of dreamy pink and neutral colors with layers of soft denim and gold accents. Giggle, an online store dedicated to babies, offers midcentury modern convertible cribs and industrial pendant lighting (a leading trend in home design this year) for nurseries that can easily survive the changes needs and styles of a growing child. Online sites even allow shoppers to search by color or style as they select furnishings and décor for their children's room.
No matter what the latest trend may be, it's best to create a room that combines what's best for baby with décor that is pleasing to the design style of parents who often end up spending quite a lot of time in that room as well. What's nice is that today's offerings for nursery décor are so robust, you can find something that will please everyone.
Photo credits: Pottery Barn Kids, Giggle.com