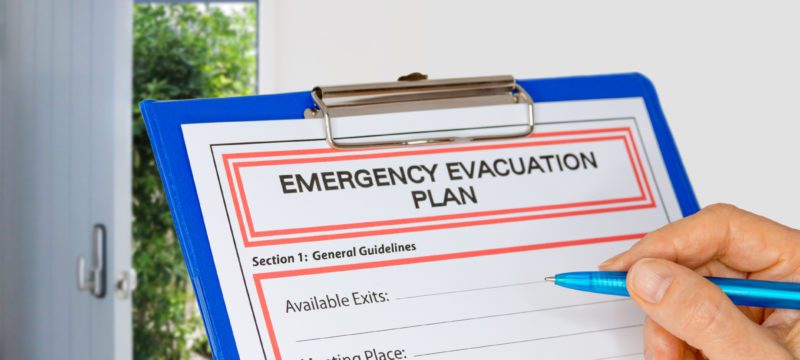 Hurricanes, fire, flood, earthquake, and even the occasional polar vortex. If you aren't ready for a natural disaster, take a look at the events of the last two years as great motivation for emergency preparation. Emergencies can happen quickly and without warning, and they can force you to evacuate or they can require that you stay in your home for an extended period of time. That's why home emergency preparedness is a must and should be done now so that you will be ready if and when something happens. Here are a few ways homeowners in Virginia can start preparing now.
Personal Family Emergency Plan
Being prepared means making a plan. Sit down with your family, turn off cell phones, and discuss the most likely scenarios in your area (fire, flood, blizzards, hurricanes, etc.). For each one, form a basic plan of what your family will do, assigning duties to each member of the family, and outlining actions to take.
Designate places to meet in case you can't return to your home. And have a plan for communicating with each other (see more on that below). Plan for your pets. Also take into account babies, young children, seniors and people with special needs. Write down your plan, give each member a copy that includes their individual duties, and make it part of your emergency supply kit.
The Virginia Department of Emergency Management has printable cards and worksheets you can use for each family member to be sure you're all clear on the steps each person should take if disaster strikes near you.
And finally, here are a few links to resources that can help people in Virginia with their emergency planning.
Let your family know you're safe
Chaos is a part of any disaster, and if one hits it's often hard to get in touch with friends, family and loved ones directly. Have a plan for communicating during an emergency. If cell networks are overloaded, texts, emails or even social media posts can get through when calls cannot.
Another quirk of cell networks during emergencies is that long-distance calls can often go through when local ones do not. Ask an out-of-town friend or family member to be your command central for people to check in with if the family is separated.
Another alternative to let people know you're safe is to register on the American Red Cross Safe and Well website. If you don't have internet access, you can call 1-866-GET-INFO to register or check on others.
Home emergency preparedness kits
Having an emergency supply kit is essential for surviving a disaster. Make sure to have supplies on hand to last each person at least three days. Here's a good list to get your started:
START WITH: Food and water, enough for each person to last 3 days. And a battery or hand-crank powered radio.
NEXT, add these to your emergency kit:
Cash (in a safe and secure location)
Flashlight with extra batteries
Necessary medications / prescriptions
First aid kit
Personal sanitation items
Diapers
Pet food, medication, extra leash and collar
Change of clothes and spare pair of shoes for each person
Whistle (to signal for help if needed)
Fire extinguisher
FINALLY, you can add these materials to really be ready for whatever comes your way:
Basic tools such as pliers and screwdrivers that can be used to turn off utilities
Materials that can be used to create shelter such as plastic sheeting and duct tape
Emergencies and disasters can strike anyone, anytime and anywhere. That's why being prepared is so important. We've seen our share of hurricanes, floods and other emergencies here in the Arlington, Virginia area. And we understand the value of planning ahead, and the comfort of knowing that we are prepared for whatever comes our way, safe and sound in this community we love.
Between floral prints, statement floors, and Pantone declaring Ultraviolet as the color of the year, 2018 is shaping up to be a big year for color when it comes to home design and décor. Whether you want a total makeover, or maybe just a few new twists to freshen up your home, I've rounded up a few trends and predictions that I know homeowners here in Arlington, Virginia might want to explore.
To make room for all that's new, Trulia predicts the list of things that are "out" this year includes exposed lighting, granite countertops and bamboo flooring. Zillow added to that list as well, naming succulents, bar carts and all-white kitchens as trends that will be fading away.
Home décor trends to watch for in 2018 are an interesting mix of old-school design, (think floral prints and grandma's wallpaper), and cutting-edge décor that's social-media ready, including:
Bar cart redo. If you're looking for something simple to update your home, don't throw out your bar cart, just transition it to what's in trend – coffee! Resurface your cart and restock it with all your coffee essentials for something that will be much more functional for daily use in your home.
Floral prints are showing up everywhere, but in home design you'll see this especially in items such as statement chairs, draperies and throw pillows.
Statement floors. Classic hardwood floors get an update with lighter woods in different rooms, herringbone settings, or bold tile "rugs" inset into the floors that make a big statement.
Strong accent rugs fit perfectly with the trend of statement floors, especially in dining and family rooms, libraries, offices and dens. Bold colors and patterns, and even layered rugs have been catching eyes and making statements in homes for sale in Arlington already this year.
Light wood cabinets will be warming up all-white kitchens this year, particularly with flat fronts and clean lines.
Matte metal hardware goes great with light wood cabinets, plus it has a warmer feel that shiny gold or silver, so predictions are strong for matte hardware in 2018.
Wallpaper is back, but don't worry, it's not your grandma's wallpaper. Contemporary patterns that fit every homeowner's style are a great way to create a statement wall in a large room, or to turn smaller rooms, such as a guest bathroom, into a statement all its own.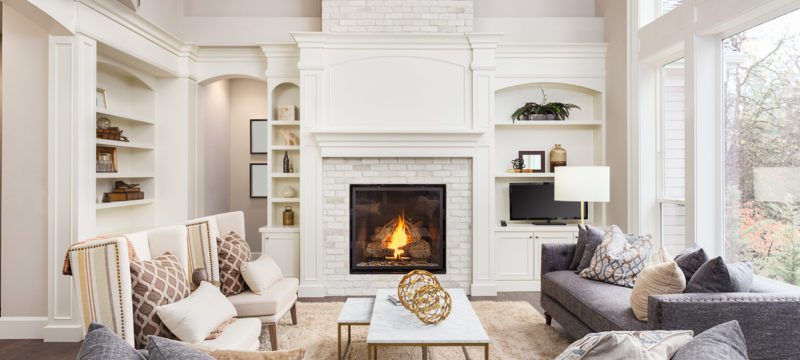 While 80's-era big hair and Miami Vice fashions have come and gone, one thing from that decade still lives on in many homes – oversize built-ins. Once valued as an element of luxury and superior design, these combination bookshelves and cabinetry are still often found in everything from kitchens to living rooms to grand master suites. Unfortunately, all that 80's glamour tends to give homes a dated look. Homeowners aren't sure what to do with them, and potential buyers are not impressed, moving on to the next house for sale.
All that's needed, however, are a few simple alterations and some fresh new thinking to transform built-ins into an attractive and functional feature. Thanks to the design minds prevalent on places like Pinterest and Houzz, you can find any number of ideas to fit your design style, function of the room, and all that the modern world demands.
Here's a round-up of ideas I've seen in homes here in the Arlington, Virginia area that fit every type of home and family. I hope one of them stands out for you.
>> Simplify: Fancy molding and overly detailed scrolls and curlicues are just too much. Remove all those elaborations and get down to the foundation of your built-ins. You'll probably find classic woods that can be stained or painted to create a simple, classic, streamlined look that will complement any style.
>> Paint, stain or paper: A coat of paint, a new shade of stain, or even some creative paper wallpaper inserts can instantly, and inexpensively, transform built-ins. Try colors that match your rugs, furniture or even art in the room to make the built-in seem like a recent addition. And put some pizzazz in your built-in by papering the back of cubbies with patterned wallpapers.
>> Transform doors and drawers:  Update your built-in by adding new hardware. Change the look by replacing solid doors with see-through glass, or even just removing them entirely.
>> Use creative lighting: Add light fixtures to highlight displays in your built-in and add ambiance for the room. If outlets are a problem, there are other options such as battery-powered LED lights that are inexpensive and long-lasting.
>> Go undercover: Have some fun and create a secret space for fun or functional activities. Re-arrange shelving and have special doors installed that can cover and close off the built-in until you want to use it. Inside you can create anything from a gaming or entertainment center to home office, art or crafting space for special activities you want to keep all to yourself.