When it comes to making your home for sale more attractive you already know that curb appeal and staging are great for boosting your home's appeal. But if you're looking for something that will really make your house for sale stand out home tech is the way to go.
A fresh coat of paint and new flowers are great, but today's homeowners are expecting a little more. Studies have shown that more and more potential homebuyers are looking for preinstalled smart-home tech when they are home shopping. This includes devices and systems such as smart thermostats, smoke detectors, garage door controls, home security cameras, doorbells and locks.
The good news for sellers? A lot of this kind of tech can be installed quickly and easily by the homeowner and without spending a lot of money. Even better, these small investments have the potential to catch the attention of home buyers and increase the home's perceived value in their eyes. Ready to get started? Here are a few ideas for smart home-tech upgrades that are easy to DIY.
Smart thermostat
Forget about having to take a walk to the hallway every time you want to adjust the temperature. Smart thermostats come with everything from remote apps you can use on your phone to voice controls and can be installed by following manufacturer's step-by-step instructions. There are a lot of versions available that list for under $200, are easy to program for energy-saving, and make life much more comfortable for the whole home. You can check out CNET's recommendations for the best smart home devices for 2018 for ideas by clicking HERE.
Smart smoke detectors
Peace of mind goes high tech with smart smoke and carbon dioxide detectors such as ones offered by Nest Protect, Kidde and First Alert. These detectors send alerts to your phone if they detect smoke and can even tell you when the battery is running low to avoid middle of the night sessions trying to figure out which one is beeping. For recommendations, check out LifeWire's article about the best smoke detectors of 2018 HERE.
Video doorbell
While the idea for Ring's video doorbell originally fell flat on The Shark Tank a few years ago, since then America has voted with their dollars to make businesses like Ring into billion-dollar success stories. These products add a sense of security to homes by putting a camera right at the front door. When it detects motion, or someone presses the doorbell, it sends an alert to a smartphone and saves a video clip of the activity to the cloud. Many models can connect wirelessly to allow homeowners to talk to the person at the door through the speaker no matter where they are. Most models can be had for under $200 and can be installed by homeowners without hiring an electrician.
Smart lock
Another way to boost the security of your front door (or any door for that matter) is to install a smart lock. A company called August offers several versions of smart locks, with options for under $200 as well. Functionality includes remote auto-lock and unlock and the ability to monitor door activity from anywhere. You can also create temporary guest passes for handymen or visiting friends and family.
Smart garage door opener
Every homeowner has had that moment where you leave the house, drive down the block, and then think to yourself, "Did I remember to close the garage door?" Smart garage door controls can answer that question with the tap of an app, much easier than driving all the way back home again. The garage door is used in many homes much more than the front door, yet it's often overlooked by tech aficionados at first. But once you install a smart controller, you'll see how easy it is to open, close and monitor activity remotely. Some versions also monitor time and temperature in the garage and offer motion-sensitive lighting for quick trips in and out. You can find options from makers like Chamberlain, LiftMaster and Ryobi and learn more in this article on CNET.
At the end of the day, you can probably install most of the tech we've mentioned here for around $1,000. When you're ready to list your home for sale, make sure your Realtor has access and knows how to demonstrate the tech to dazzle prospective buyers while you remain confident that this small investment will give a great return in catching people's eye and truly making your home stand out from the crowd.
With more and more Americans focused on wellness, a new home trend is emerging – finding ways to put some more "om" in your home. From Zen gardens to meditation rooms, homeowners are creating unique spaces both inside and out perfect for getting away from it all.
If you like the idea of creating a relaxing retreat in your home, here's a few ways I've seen friends and clients here in Arlington, Virginia make it happen.
Relaxation / Zen Gardens: As research continues to show that nature can boost healthfulness, the idea of creating relaxation gardens at home has gained some serious traction. Garden retreats don't have to be large. In fact, a small footprint makes them easier and less costly to create and maintain. Chose a location where privacy, noise and light levels, and the view are favorable for creating the right atmosphere. Beyond that, the details will be very personal according to who the garden is for. Pinterest is a great place to start for ideas, and touring local botanical gardens and nurseries is too.
Firepits and Indoor Fire Features: Firepits with comfortable seating outdoors are very popular these days and provide a great place to unwind. Indoor fire features and fireplaces can also be used inside a home to provide a place for people to "unplug" by focusing on the flames as a sort of meditation technique.
Yoga / Mediation Sanctuary: Doing yoga at home is becoming very popular but figuring out where to lay out your mat with no distractions can be hard. Pushing furniture out of the way in the living just isn't cutting it anymore. That's why many people are turning guest rooms or unused spaces into private studios for a more focused practice. The beauty of yoga retreats is their simplicity. All you need to get started are yoga mats and props, muted lighting and soothing paint colors. Aromatherapy, plants and Bluetooth speakers can also add to the mood.
Traditional Libraries: One recurring theme throughout all of these ideas is the concept of removing technology to unplug from the stresses of the daily world. Old-school libraries are still a popular choice for homeowners wanting a space that's comfortable, peaceful and where they can surround themselves with the things they love.
The important thing to remember when creating your own personal retreat is that you know what's best for you. Remember that this space is all yours. When you take time to create a dedicated relaxation zone in your home (or backyard), the experience will be more fulfilling and calm only a few breaths away.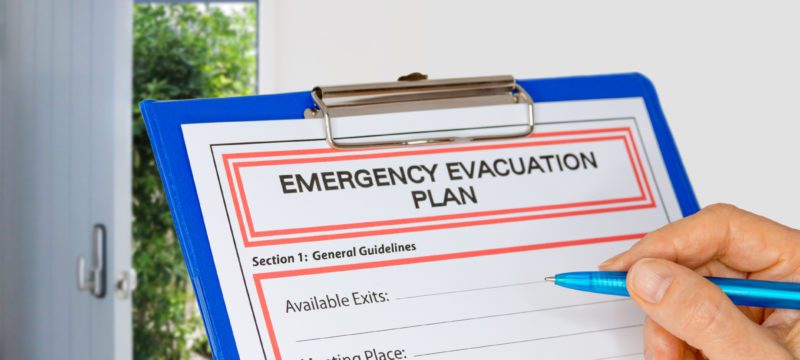 Hurricanes, fire, flood, earthquake, and even the occasional polar vortex. If you aren't ready for a natural disaster, take a look at the events of the last two years as great motivation for emergency preparation. Emergencies can happen quickly and without warning, and they can force you to evacuate or they can require that you stay in your home for an extended period of time. That's why home emergency preparedness is a must and should be done now so that you will be ready if and when something happens. Here are a few ways homeowners in Virginia can start preparing now.
Personal Family Emergency Plan
Being prepared means making a plan. Sit down with your family, turn off cell phones, and discuss the most likely scenarios in your area (fire, flood, blizzards, hurricanes, etc.). For each one, form a basic plan of what your family will do, assigning duties to each member of the family, and outlining actions to take.
Designate places to meet in case you can't return to your home. And have a plan for communicating with each other (see more on that below). Plan for your pets. Also take into account babies, young children, seniors and people with special needs. Write down your plan, give each member a copy that includes their individual duties, and make it part of your emergency supply kit.
The Virginia Department of Emergency Management has printable cards and worksheets you can use for each family member to be sure you're all clear on the steps each person should take if disaster strikes near you.
And finally, here are a few links to resources that can help people in Virginia with their emergency planning.
Let your family know you're safe
Chaos is a part of any disaster, and if one hits it's often hard to get in touch with friends, family and loved ones directly. Have a plan for communicating during an emergency. If cell networks are overloaded, texts, emails or even social media posts can get through when calls cannot.
Another quirk of cell networks during emergencies is that long-distance calls can often go through when local ones do not. Ask an out-of-town friend or family member to be your command central for people to check in with if the family is separated.
Another alternative to let people know you're safe is to register on the American Red Cross Safe and Well website. If you don't have internet access, you can call 1-866-GET-INFO to register or check on others.
Home emergency preparedness kits
Having an emergency supply kit is essential for surviving a disaster. Make sure to have supplies on hand to last each person at least three days. Here's a good list to get your started:
START WITH: Food and water, enough for each person to last 3 days. And a battery or hand-crank powered radio.
NEXT, add these to your emergency kit:
Cash (in a safe and secure location)
Flashlight with extra batteries
Necessary medications / prescriptions
First aid kit
Personal sanitation items
Diapers
Pet food, medication, extra leash and collar
Change of clothes and spare pair of shoes for each person
Whistle (to signal for help if needed)
Fire extinguisher
FINALLY, you can add these materials to really be ready for whatever comes your way:
Basic tools such as pliers and screwdrivers that can be used to turn off utilities
Materials that can be used to create shelter such as plastic sheeting and duct tape
Emergencies and disasters can strike anyone, anytime and anywhere. That's why being prepared is so important. We've seen our share of hurricanes, floods and other emergencies here in the Arlington, Virginia area. And we understand the value of planning ahead, and the comfort of knowing that we are prepared for whatever comes our way, safe and sound in this community we love.