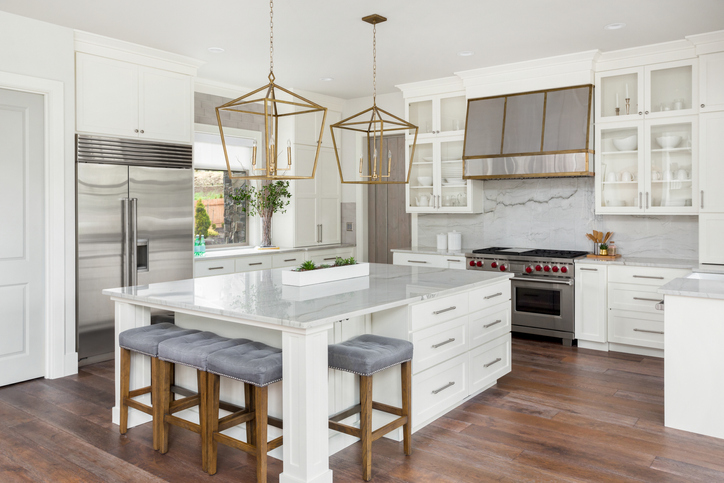 The Covid-19 pandemic was an eye opener for homeowners as more time at home meant reevaluating how to use their space. Here in Arlington, Virginia, I've noticed that home buyers are focusing on three features as their top priorities – home offices, kitchens and clean air. If you are planning on selling in 2022, here are a few tips to make sure your property meets all the demands of post-pandemic living.
How to Improve Your Kitchen
The kitchen still reigns as the most important part of the home, but it's gained even more of the spotlight as families spend more time inside than ever. Since dining out is much less frequent (in some cities it's still not an option), homeowners want kitchens that offer space, flexibility and features that make cooking, eating and gathering more enjoyable.
Ways to boost the appeal of your kitchen include expanding the size, upgrading appliances, creating spaces for people to just hang out with areas for laptops, charging of electronics, or space to lay out puzzles, books and games.
Even if you're not ready to sell immediately, starting right away on improving the functionality of your kitchen will benefit you right now and increase the homes appeal to future home buyers. If you need ideas, I'm happy to help, just call me at 703-593-6320.
Creating a Fully Functional Home Office
The second feature that will definitely attract home buyers in 2022 is a robust home office. People are looking for dedicated home offices with all the features they need, plus extra to help with today's issues such as good lighting for video conferences, stylish backgrounds, ergonomic setups, and the ability to have total quiet and privacy.
Home offices used to be just a desk, computer and printer. But with families who are also dealing with remote schooling, a separate space is essential. If it's possible to convert a structure on your property into a home office, that will really catch people's attention. But even a dedicated room that can be closed off, and includes selfie-style lighting, modern technology, and all the office tools and storage space you need will do the trick.
Clean air for healthy living
Post-pandemic, health and safety is still of primary concern, which makes clean air a very important issue among home buyers. Updated HVAC systems are a must, even better when they include air purification systems.
Beyond clean air issues, also focusing on hygiene throughout the home will make it even more attractive. Features like touchless faucets or sanitation stations at doors and in the garage are also popular. Another idea is creating spaces at your front entry or in the mudroom for things like contactless delivery of packages, groceries, and meals are also good ideas.
Even though Covid-19 cases are falling in many parts of the world, the ways in which the pandemic has changed how we live will most likely linger. Companies and government are still supporting work-from-home for many employees, and it could be quite a while before people are comfortable returning to crowded malls, movie theaters and more. Making sure your home reflects today's needs is a great way to stand out in the market. If you are thinking of selling a home or condo in Arlington, Virginia or the surrounding area, I can help. Reach out to me via email at mike@mikesellsvirginia.com, or call 703-593-6320.