Chain Bridge Forest in Arlington VA
Overview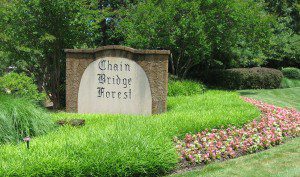 Located right next to the Chain Bridge, this community is the gateway to northern Arlington and McLean from Washington, D.C. just a few miles away. Residents have easy access to the professional and cultural conveniences of the city, yet enjoy returning home to a more tranquil setting featuring more than 10 acres of green parkland, lovingly-tended homes, and a perfect setting for fun, family and life out of the office.
The current population of Chain Bridge Forest is 285 with the median age of 48. Chain Bridge Forest's median household income is $257,035, and the average household net worth is $1,404,678. Roughly 60 percent of Chain Bridge Forest's population is long term residents having lived in their homes for more than 5 years. Chain Bridge Forest is located in the 22207 zip code area.
Lifestyle
Residents of Chain Bridge Forest enjoy more than 10 acres of green parkland nearby including wooded areas filled with poplar and beech trees and park trails. Glebe Road Park, Ethan Allen Park and Potomac Overlook Park are also close by. Tennis courts, playgrounds, dog parks and the Washington Golf and Country Club are also within an easy distance. Only a "10-minute drive from the White House," Chain Bridge Forest boasts excellent schools, active community involvement and a place for people to live within a community committed to maintaining a high quality of life for all residents.
Culturally stimulating events and activities can be found year round for all ages including sports, recreation, concerts, parks, art galleries and renowned National Museums. The Chain Bridge Forest Citizen's Association is composed of residents who welcome new homeowners, maintain the neighborhood, and sponsor events such as the annual Spring Champagne Brunch and Fall Family Halloween Picnic. The area, which boasts a crime rate 82% lower than the national average, has an active neighborhood watch program, garden clubs, dinner and book clubs and other community and cultural events.
Buying and Selling Homes in Chain Bridge Forest
As a Real Estate Consultant with more than 30 years as a licensed Realtor, Mike Pugh helps clients successfully buy and sell homes and condos in the Chain Bridge Forest neighborhood and throughout the Arlington, Virginia area. See below for homes currently on the market in Arlingwood. You can contact Mike at mike@mikesellsvirginia.com, or by phone at 703.593.6320. And be sure to click through to Mike's blog at www.mikesellsvirginia.com/blog to learn more about life and real estate in the greater Washington, DC and Northern Virginia area.
Homes currently for sale in Chain Bridge Forest
Resources