In this digital age, finding the right place for kids to do their homework has definitely changed. While kitchen tables are still a popular choice, with the need for easy access to computers and smart devices for even the youngest of children, parents are looking to new spaces and ideas for creating tech-friendly, creativity-boosting spaces that kids can thrive in.
Keeping kids close is still one of the main requirements when planning for homework space. Monitoring their progress and their internet usage, as well as being close at hand for assistance when needed means kids need to be near where mom or dad are hanging out too. Since the kitchen is still the central gathering point of most home, kitchen-adjacent areas such as corner cubbies, hallways, large closets and even dining rooms can become the perfect workspace.
Check out Pinterest and you'll see thousands of pins pointing to blogs and websites with articles about designing and creating modern homework spaces for kids, showing the need for new ideas and direction when setting up and organizing a space in which kids can thrive.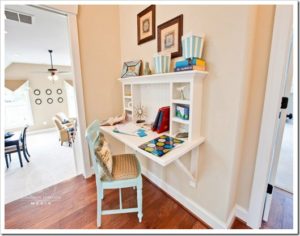 Homebuilders are even adding new elements to new home construction floor plans that feature dedicated areas, such as a nook by the kitchen, a desk area in the mudroom, or an office near the family room, for children to focus on their homework.
If you're thinking of creating a new space for your children's homework activities, here are a few ideas that might inspire you:
Featured as the #1 home office space of 2016 on Houzz.com, this design from the Johnston Home blog shows how a space right off the kitchen that could have been used as a breakfast nook, study, TV room, or small dining room was instead cleverly converted to the perfect homework zone. For this 5-person family, each child was given storage for books and binders including flat cubbies for paper stacks and file drawers for long term storage. There are a couple of swivel lounge chairs for more cozy reading. Bonus: It features Pantone 2017 color of the year: "Greenery." (top photo, courtesy ajohnstonhome.com)
If you've got a hallway with open wall space, you can create a workspace station for your kids, like they did on the Sand and Sisal blog (middle photo). Think mini-murphy bed and you'll see how this easy-to-create and install compact solution works for storing homework supplies out of the way until they are needed. When kids are ready, just open, pull up a chair and let their creativity flow!
Even little-used closets can be transformed into fun homework spaces. Take the doors off, line the walls with a fun pattern wallpaper, add some shelves to create a desk-like surface and some storage and you've got a space that will offer big appeal to pint-size learners. (bottom photo, courtesy IPC)
No matter where you put it or how you decorate it, there's just something about a designated space just for kids that gives them a sense of focus and opens up entire new levels of creativity. Designing a space that works well for today's homework needs is a great way to support your child's learning and keep them on track all year long.
Save
Save
Save