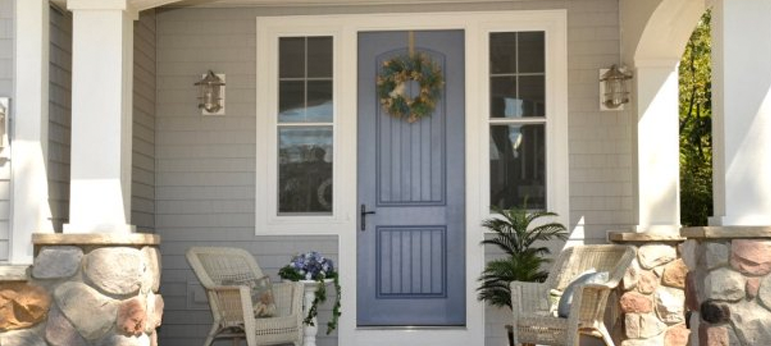 When it comes to real estate, the first impression potential buyers have of your home can make or break their decision to go any further. In fact, the National Association of Realtors recently rated exterior projects among the most valuable of all home improvement projects in their 2014 Remodeling Cost vs. Value Report.
Ready to freshen up your home's first impression factor? Here are five easy and wallet-friendly ways to improve your home's exterior and invite potential buyers inside.
Dress Up Your Front Door: Your home's front door is the centerpiece of its curb appeal. Make it stand out by giving it a fresh coat of paint, a pop of fun color or by installing a custom wood door. When you are showing your house, make sure the door is clean and the hardware wiped free of fingerprints and smudges. And a stylish or seasonal wreath never hurts either.
Replace Old Hardware: Replace outdated house numbers, wall-mounted mailboxes, and outside light fixtures with bright, new hardware that complements each other and the overall style of your home. Oiled-bronze finishes suit traditional homes, while brushed nickel suits more contemporary ones
Container Gardens: Fresh, colorful arrangements in stylish planters or hanging baskets are a sure bet for adding to your home's curb appeal. If you are the DIY type, it's easy to create your own arrangement, but if you're in a hurry you can always purchase ready-made containers from a nearby garden center.
Clean or Replace Gutters: Rusty, peeling and loose gutters can spoil the look of a home in no time. Before you put your home on the market, be sure to have all gutters and downspouts cleaned. If they need to be replaced, there are a wide range of options these days that can fit any sense of style, from snap-fit vinyl to copper beauties.
Accessorize: Adding elegant and eye-catching accessories to your home's exterior such as patio furniture, fresh welcome mats, and tasteful water features are another great way to set the mood and improve potential buyers' first impressions of your home for sale.