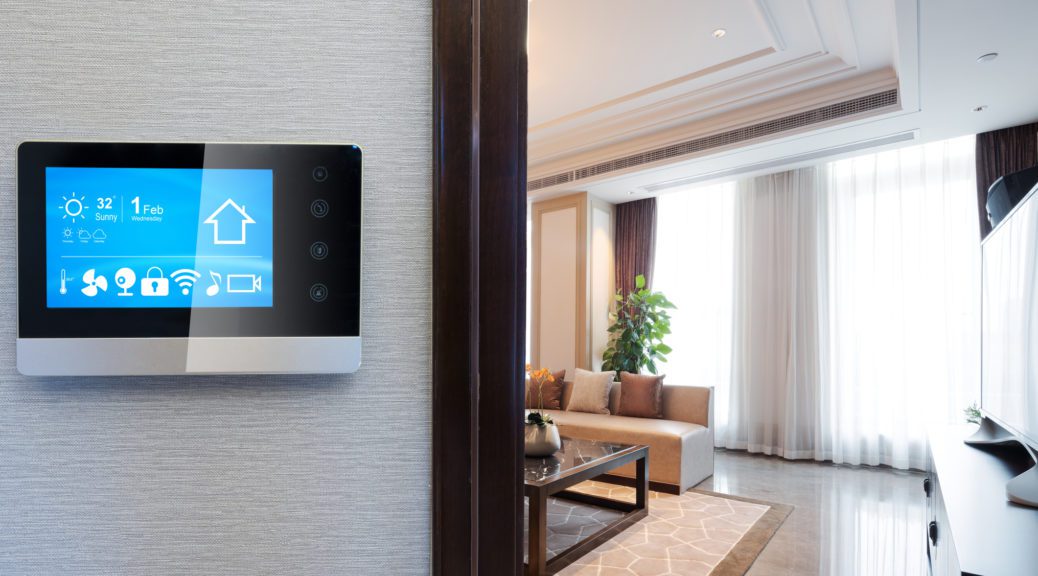 When it comes to making your home for sale more attractive you already know that curb appeal and staging are great for boosting your home's appeal. But if you're looking for something that will really make your house for sale stand out home tech is the way to go.
A fresh coat of paint and new flowers are great, but today's homeowners are expecting a little more. Studies have shown that more and more potential homebuyers are looking for preinstalled smart-home tech when they are home shopping. This includes devices and systems such as smart thermostats, smoke detectors, garage door controls, home security cameras, doorbells and locks.
The good news for sellers? A lot of this kind of tech can be installed quickly and easily by the homeowner and without spending a lot of money. Even better, these small investments have the potential to catch the attention of home buyers and increase the home's perceived value in their eyes. Ready to get started? Here are a few ideas for smart home-tech upgrades that are easy to DIY.
Smart thermostat
Forget about having to take a walk to the hallway every time you want to adjust the temperature. Smart thermostats come with everything from remote apps you can use on your phone to voice controls and can be installed by following manufacturer's step-by-step instructions. There are a lot of versions available that list for under $200, are easy to program for energy-saving, and make life much more comfortable for the whole home. You can check out CNET's recommendations for the best smart home devices for 2018 for ideas by clicking HERE.
Smart smoke detectors
Peace of mind goes high tech with smart smoke and carbon dioxide detectors such as ones offered by Nest Protect, Kidde and First Alert. These detectors send alerts to your phone if they detect smoke and can even tell you when the battery is running low to avoid middle of the night sessions trying to figure out which one is beeping. For recommendations, check out LifeWire's article about the best smoke detectors of 2018 HERE.
Video doorbell
While the idea for Ring's video doorbell originally fell flat on The Shark Tank a few years ago, since then America has voted with their dollars to make businesses like Ring into billion-dollar success stories. These products add a sense of security to homes by putting a camera right at the front door. When it detects motion, or someone presses the doorbell, it sends an alert to a smartphone and saves a video clip of the activity to the cloud. Many models can connect wirelessly to allow homeowners to talk to the person at the door through the speaker no matter where they are. Most models can be had for under $200 and can be installed by homeowners without hiring an electrician.
Smart lock
Another way to boost the security of your front door (or any door for that matter) is to install a smart lock. A company called August offers several versions of smart locks, with options for under $200 as well. Functionality includes remote auto-lock and unlock and the ability to monitor door activity from anywhere. You can also create temporary guest passes for handymen or visiting friends and family.
Smart garage door opener
Every homeowner has had that moment where you leave the house, drive down the block, and then think to yourself, "Did I remember to close the garage door?" Smart garage door controls can answer that question with the tap of an app, much easier than driving all the way back home again. The garage door is used in many homes much more than the front door, yet it's often overlooked by tech aficionados at first. But once you install a smart controller, you'll see how easy it is to open, close and monitor activity remotely. Some versions also monitor time and temperature in the garage and offer motion-sensitive lighting for quick trips in and out. You can find options from makers like Chamberlain, LiftMaster and Ryobi and learn more in this article on CNET.
At the end of the day, you can probably install most of the tech we've mentioned here for around $1,000. When you're ready to list your home for sale, make sure your Realtor has access and knows how to demonstrate the tech to dazzle prospective buyers while you remain confident that this small investment will give a great return in catching people's eye and truly making your home stand out from the crowd.