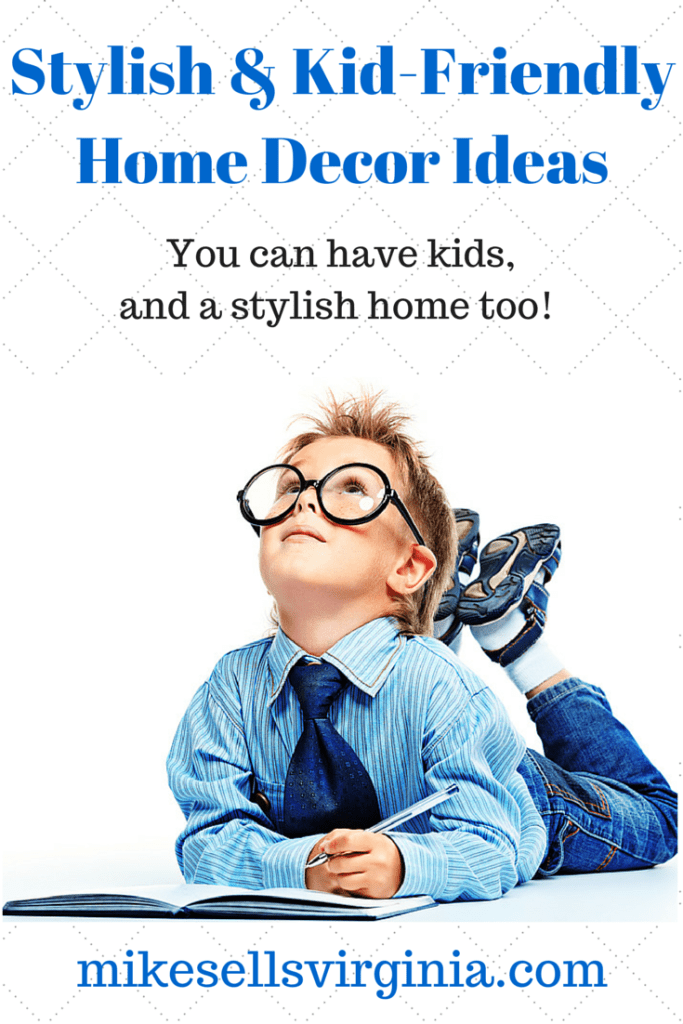 Is it a myth that you can have a stylish home AND kids at the same time? Or are you doomed to live with shaggy-chic distressed decor until you become an empty nester?
Stylish kid-friendly decor is possible, as long as you remember that compromise is the key. Families are incorporating their children's things into the family home by utilizing clever storage solutions, creative design styles, and decor that can be easily moved or updated such as decals, art work, lamps and rugs.
Moderation is also essential when weaving child-friendly elements into home decor. Never go all-out with a kid theme. Instead incorporate elements of what interests your child and fits their personality. If a child likes pirates and mermaids, hang beautifully framed nautical maps in the family room. Maps are inherently beautiful and are attractive to both adults and children. And as for play swords and costumes, keep them hidden away, yet easily accessible for playtime in a woven sea grass basket or antique steamer trunk that fits the theme for the kids, yet appeals to an adult sense of aesthetics.
Temporary wall decals are wonderful modern-day decorating tools that parents everywhere have embraced. Paint family, play and bedrooms in classic neutrals that work for anyone from 1 to 100. Then, for less than $50, you can use temporary wall decals to bring your child's vision to life. And when they change their mind 6 months later, the decals easily peel off without damaging the paint, leaving you with a beautiful blank slate for the next phase of life.
When it comes to furniture, look for grown-up pieces that have a touch of flair, whimsy and personality. Add the right pillows or props and these pieces will grow with your children and never go out of style.
And finally, take a style hint from children and don't be afraid of color. Color brings in warmth, fun and emotion. It stimulates a child's imagination and can boost an adult's energy and mood. Don't worry, we're not talking about neon candy colors. Just "boost" the colors you are considering. Like blue? Take it up a few shades and use a bolder, deeper or brighter blue.
For more super stylish, kid-friendly decor ideas, check out this photo gallery from the popular Apartment Therapy website highlighting 20 Stylish and Kid-Friendly Spaces. And remember, just because you have children doesn't mean you have to give up adult-style design. Weave your style and your children's style together to create a place that everyone will love, and you'll never have to make a joke about shabby-chic again.