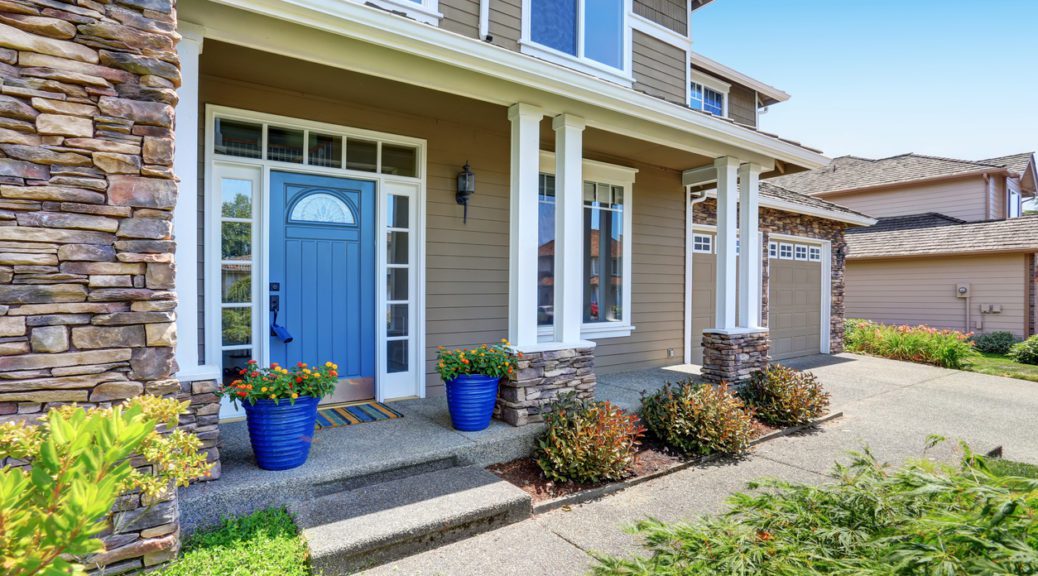 Home stagers have a talent for making real estate look its best when it's on the market. If you've ever walked through an open house and wished your own home could be spruced up like they did, here's the secret. You can use many of the exact same tactics professional home staging companies use to freshen up your own home, update your decor, or create the ambiance you really want. All without breaking your back – or your budget.
As a licensed Realtor who has worked in the Arlington, VA area for more than 30 years, I've had the opportunity to work with talented home stagers through the years. As I watched them transform homes for sale and turn them into buyer's dreams, I realized that many of the tactics they use can easily translate for all homeowners, whether selling their homes or not. Here's a list of the best ideas I've seen, perfect for making your own home feel very new-to-you.
FRONT ENTRANCE / ENTRY
First impressions are everything, and you deserve to love what you see every time you come home. Take a cue from home staging 101 and spruce up your front entrance both inside and out. Give your front door a fresh coat of paint. Hang shiny new numbers in a fun style. One of the best bangs for your buck is to purchase a new welcome mat, which can cost as little as $10. Add some flowers or potted topiaries and you've got the wow factor ready to go.
A welcoming, warm entry is the next step in home staging strategy. If the walls just inside your front door are looking shabby, consider repainting them in a bright, warm color. Add a small table for holding items, baskets underneath to keep things clutter free, a mirror on the wall to add light and function, and a small vase of flowers for a beautiful touch.
FLOORS
Wood floors can be given new life with a professional cleaning – or it's easy to buff and sand out nicks and scratches yourself followed by a thorough polishing to make your floors shine. If you have area rugs in your home, here's a neat trick. Instead of replacing the rug, have it cleaned, then add a very thick pad underneath which will make it appear much more luxurious.
BED & BATH
Here's where you can really have some fun. Let's start with the bedroom. For your walls, stick with one neutral color in the bedroom, perhaps all white, grey, or cream, for example. To make your bedroom feel like a luxury hotel or the fantastic home you just toured, tuck your comforter into the end of your mattress. Add more pillows to the bed, starting with the ones that you usually use but adding a few more in fun colors and patterns for a luxurious feel. Hang some artwork above the headboard, or a grouping of art.
Now let's move on to the bathroom. Yes, you really can have a spa-like bathroom, it only takes a few tweaks. Invest in all-white towels, bath mats, and shower curtains. They are actually much easier to clean than you think, and they give the room a luxury spa feel without the big price tag. Clear the clutter from your counters, and reposition some of the things you use just like they do in spa displays. For example, you can roll and stack bath towels on the tub, and hand towels near the sink. Add a small vase of flowers, an arrangement of candles, or a pretty dish to hold your collection of colorful bath bombs ready for your next soak.
OVERALL
When was the last time you walked into an open house and saw any clutter? I'm guessing never! If it's overwhelming to tackle your whole house at once, go through one room each day on a mission to declutter. Ask yourself, "Do I really need all this?" Then recycle, trash, donate or store for a more spacious look.
Rethink your color palette. Home stagers look to neutral palettes to make rooms seem larger, balanced and timeless. Colors such as cream, white or light grey are universally flattering. Then you can add your own unique flair with colorful furniture, accessories, or decorative elements.
Mirrors on the wall really can be magical. Well, they can make a room seem bigger and brighter than it is, anyway. Mirrors are relatively inexpensive and come in so many shapes and sizes to fit any preference. If you want to make a room seem brighter, hang a mirror across from a window so that it catches the light. Here's something I've seen home stagers do as well, instead of hanging one large mirror, arrange a grouping of smaller mirrors on the wall, creating art as well as bringing light.
Whether you're selling your home, or just want to freshen up the home you love and live in right now, I hope you've found some fun ideas you're excited to start working on. And the next time you tour an open house or look at a beautiful new home on the market take a moment to recognize some of these tactics used by the pros and prepare to be inspired for even more.